Puzzle 54 - Imperial Silver Dragon

By Custom Puzzle Craft

Puzzle #54 - Imperial Silver Dragon
Source Image ©2000 K. Chin Gallery
---
This is a puzzle made from the K. Chin's print, "Imperial Silver Dragon". For other K. Chin prints see: K. Chin - Prints.

This puzzle is significant for several reasons:

1) The first puzzle where I populated the puzzle with so many "Concept Pieces". I have now decided to name the overall style the Creative style. Edit: In later years my Creative style became far more elaborate.

2) The first puzzle where my ideas for Flow Curl solidified as a distinct cutting style - appearing in several sections of the puzzle.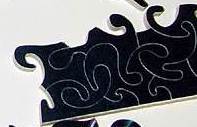 A few Flow Curl pieces
Flow Curl gets its name from having a cutting line "Flow" or continue across a gap - showing up in one piece and then reappearing in another piece . The puzzle section shown is a good example. Edit: The Flow Curl concept became known as "Flow Cutting" as part of my Swirl Curl and particular my Creative styles, and not developed into particular style itself.
3) First Flow Curl "egg" piece. In the dark sky to the left of the TriStar figural. My next puzzle, #55, Sophia has 19 "egg" pieces. The "Observer" figural - woman in robe - is looking in the general direction of the "egg" piece. The Observer first showed up in Fantasy Faire - she may show up again in later puzzles.
There are 14 figure pieces in the puzzle, all of them also appeared in Fantasy Faire.

Puzzle 54 - Figure Pieces
The second piece on the top row is my Signature Piece
A 15th figural (a unicorn) was inadvertently left out of the picture
Starting with Puzzle #62, I added the Dragon's Sword
Starting with Puzzle #76, I replaced the Horseshoe with a Crop Circle and twirled the small star
See Puzzle #76 for the updated Dragon Figure Piece Set
---
Specifications
| | | |
| --- | --- | --- |
| Name | | Imperial Silver Dragon |
| Artist | | K. Chin |
| Date Completed | | November 5, 2000 |
| Size | | 15 3/32" wide x 11 23/32" high |
| Cutting Style | | |
| # Pieces | | 284 |
| Color Line Cutting | | None |
| Figurals | | 15, see above |
---
© John S. Stokes III - Puzzle Crafter & Webmaster