Puzzle 149 - The Metamorphosis of Narcissus

By Custom Puzzle Craft

Puzzle #149 - The Metamorphosis of Narcissus - 27 3/4" x 17 3/4" with 1858 Pieces
Of course I may be biased, but I think this is one of the most awesome puzzles, ever!

Puzzle #149 - reverse, with figurals and some treats removed
Note the face formed by six Bird figurals (from a Dali painting) - located on the head in the puzzle's painting
The three figures standing in the center - two are treats, one a figural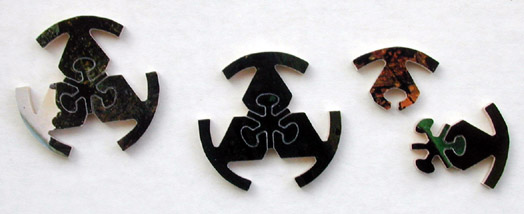 Puzzle #149 Trick Complex
In the "wheel" (supposed to be a Crop Circle) at the left, the piece on the right hand side doesn't really belong there. The coloration however gives the piece away, the grain on the back was aligned..... The wheel in the center is correct. On the right, there is one isolated piece (top), and the other two are a "surreal mistake". I meant for the black piece to fit perfectly on the black knob, but as the pieces were covered by guide paper I misaligned them and cut the black piece to fit the Green knob! Was meant to be very hard to figure out if it was meant to be..... very nice fit too. Ummmmmmmm.

The Egg - I like to put deep spirals in special places - in this case an egg from which life springs forth

Dali Ascending to Heaven (view from feet)
The toes were a "push it to the limit" cutting exercise.
And one more ghoulish one....

The Dog
The Observer was VERY interested in what the dog was doing and decided to have a peek.
The dog is standing in the shadow of the object to the left, but his tail was cut to be in "front" - surreal cutting!
Note, this picture was shot at angle, making the bottom pieces appear larger
The red "Jurassic" puzzle piece "figurals" fit together
Also - that checker board you see? The interior tile boundaries are crossed on the corners.... - tough to assemble!

Some pieces from the puzzle

Puzzle #49 - figurals, with trick pieces excluded
---
Specifications
| | | |
| --- | --- | --- |
| Name | | The Metamorphosis of Narcissus |
| Artist | | Salvador Dali |
| Date Completed | | October 24, 2001 |
| Size | | 27 3/4" x 17 3/4" |
| Cutting Style | | |
| # Pieces | | 1858 (record # of pieces, stood until the 99th puzzle of the 100 Puzzles Project) |
| Color Line Cutting | | Some |
| Figurals | | 46 figurals, I think |
---
© John S. Stokes III - Puzzle Crafter & Webmaster